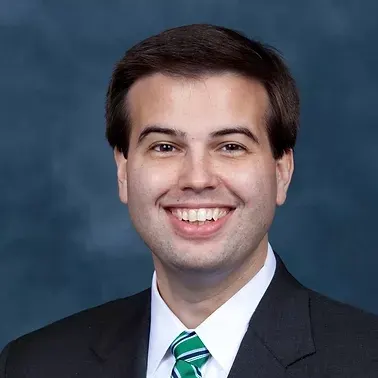 B. Tyler Brooks, J.D., LL.M. (Tax)
Principal
Attorney & Counselor at Law

P.O. Box 10767
Greensboro, NC 27404
tyler@brookslawnc.com
Tyler Brooks represents clients throughout the United States in cases involving free speech, religious liberty, and individual rights. He also represents clients in complex business litigation, employment disputes, and bankruptcy matters, as well as in business transactions and estate planning.
Tyler has been interviewed by various journalists and media outlets, including Fox News at Night with Shannon Bream, Todd Starnes of Fox News Radio, Bloomberg News, the Daily Wire, NTD News, the Wall Street Journal, North Carolina Lawyers Weekly, the Santa Fe New Mexican, North State Journal, American Family Radio, the Charlotte Observer, Carolina Catholic Showcase, and Divine Mercy Radio Catholic 540-AM.
Before starting his own practice, Tyler worked for six years, first as an associate attorney and then partner, at a civil litigation firm based in Raleigh, North Carolina, where he primarily represented railroads and other clients in the transportation industry. Much of this work focused on wrongful death and serious personal injury cases as well as employment law, including matters arising under Title VII and the ADA. He later practiced with a financial services law firm after serving as Senior Trial Counsel with a national, non-profit public interest organization. Additionally, Tyler was an attorney with a business law firm in Raleigh, providing litigation support to a Chapter 7 Bankruptcy Trustee. He has been an Adjunct Professor at Trinity International University's Trinity Law School, and he previously served as an Adjunct Instructor at the University of Memphis School of Law. ​
Tyler has been named a "Rising Star" by SuperLawyers for multiple years and was selected as a North Carolina SuperLawyer in 2021, 2022, and 2023. He was named to the North Carolina Pro Bono Honor Society in 2017, 2018, 2019, 2020, and 2021 and named to the South Carolina Pro Bono Honor Roll in 2019 and 2020.​
A Life Fellow of the American Bar Foundation and Past President of the Eastern District of North Carolina Chapter of the Federal Bar Association, Tyler previously served on the Section Council of the North Carolina Bar Association's Appellate Practice Section and currently serves on the NCBA's Appellate Rules Committee.
Tyler graduated summa cum laude from Wake Forest University, earning a Bachelor of Arts in Latin with Departmental Honors. At Wake Forest, he was inducted into Phi Beta Kappa and Eta Sigma Phi (Classics Honor Society) and received the M.D. Phillips Prize in Classical Languages. He received his J.D. in 2006 from Vanderbilt University Law School, where he served on the Vanderbilt Journal of Transnational Law as an Articles Editor. He further holds a Master of Laws (LL.M.) degree in Taxation with a Certificate in Estate Planning from Villanova University's Graduate Tax Program, through which he also completed advanced coursework in ERISA and employee benefits law.
Following his graduation from Vanderbilt, Tyler served as a judicial law clerk to the Honorable Walter C. Kurtz, a trial court judge in Nashville and later Senior Judge for the State of Tennessee. He then clerked for the Honorable Bernice Bouie Donald, who was at the time a United States District Judge for the Western District of Tennessee and who was later a judge on the United States Court of Appeals for the Sixth Circuit. ​
Tyler has published many legal articles and has moderated or taught several continuing legal education programs, particularly on the topics of civil and appellate procedure.
A native of Greensboro and a graduate of Greensboro's Grimsley Senior High School, Tyler now resides in Asheboro, North Carolina. He is admitted to practice law in the States of North Carolina, South Carolina, Tennessee, and Michigan as well as numerous federal courts.
When not practicing law, Tyler enjoys reading, involvement with church activities, and firearms and target shooting, an activity he learned at a young age from his grandfather.
Education
LL.M. in Taxation - Villanova University School of Law

J.D. - Vanderbilt Law School

B.A. in Latin with Honors - Wake Forest University

Grimsley Senior High School
State Bar Admissions
North Carolina

South Carolina

Tennessee

Michigan
Federal Court Admissions
U.S. Supreme Court

​U.S. Court of Appeals for the First Circuit

U.S. Court of Appeals for the Second Circuit

U.S. Court of Appeals for the Third Circuit

U.S. Court of Appeals for the Fourth Circuit

U.S. Court of Appeals for the Fifth Circuit

U.S. Court of Appeals for the Sixth Circuit

U.S. Court of Appeals for the Seventh Circuit

U.S. Court of Appeals for the Eighth Circuit

U.S. Court of Appeals for the Ninth Circuit

U.S. Court of Appeals for the Tenth Circuit

U.S. Court of Appeals for the Eleventh Circuit​

U.S. Court of Appeals for the Armed Forces

U.S. District Court for the District of Colorado

U.S. District Court for the Eastern District of Michigan

U.S. District Court for the Western District of Michigan

U.S. District Court for the District of New Mexico

U.S. District Court for the Eastern District of North Carolina

U.S. District Court for the Middle District of North Carolina

U.S. District Court for the Western District of North Carolina

U.S. District Court for the District of South Carolina

U.S. District Court for the Western District of Tennessee

U.S. District Court for the Western District of Wisconsin

​U.S. Tax Court
Other Admissions
Judicial Branch of the Eastern Band of Cherokee Indians
Honors
Life Fellow, American Bar Foundation

North Carolina Pro Bono Honor Society

South Carolina Pro Bono Honor Roll

Tennessee Attorneys for Justice Pro Bono Honor Roll

North Carolina SuperLawyers (2021, 2022 & 2023)

North Carolina SuperLawyers "Rising Star" (2016, 2017, 2018 & 2020)
Judicial Clerkships
Law Clerk, U.S. District Judge Bernice B. Donald, U.S. District Court for the Western District of Tennessee

Law Clerk, Tennessee Senior Judge Walter C. Kurtz

Law Clerk, Judge Walter C. Kurtz, Fifth Circuit Court for Davidson County, Tennessee
Teaching Experience
Adjunct Professor, Trinity Law School, Trinity International University (2019-22)

Adjunct Instructor, Cecil C. Humphreys School of Law, University of Memphis (2010-11)
Memberships
Federalist Society

Catholic Bar Association

North Carolina Bar Association - Appellate Practice Section

South Carolina Bar - Civil Rights Section

Michigan State Bar - Religious Liberty and Appellate Sections

North Carolina Supreme Court Historical Society

Republican National Lawyers Association

Vaccine Injured Petitioners Bar Association

Association of Certified Fraud Examiners (Associate Member)

Catholic Medical Association (Attorney Member)

Greensboro Bar Association

High Point Bar Association

37th Judicial District Bar (Randolph County)

Asheboro/Randolph Chamber of Commerce